At the Farmstand: Aug. 27 – Sept. 9
Posted August 27th, 2015
Peggy Paul Casella, Resident Wordsmith (and Farmstand Associate)
I don't know about you, but to me, back-to-school season always feels like a new beginning. Carefree summer weekends taper off into cooler days, and the start of a fresh school year sparks inspiration for goal setting and exciting adventures (whether you're a student or not). Though we all start out with the best of intentions, amid the bustle of school and work weeks, healthy eating can easily fall to the wayside.
Here are five healthy make-ahead lunches to power you through this busy time of year: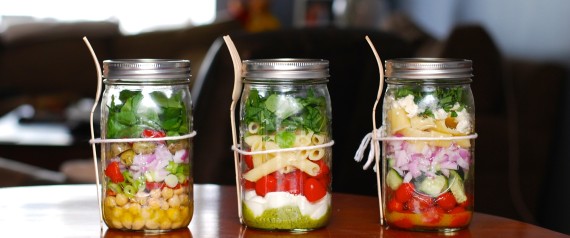 Jar Salads
Mason jars and cleaned-out tomato sauce or yogurt containers with twist-on lids are perfect for toting salads to work and school–and not only because they look pretty. Their tall, narrow shapes help you layer ingredients and prevent sogginess so you can assemble your lunches a few days ahead, then grab and go. In less than one hour you can prep all of the ingredients for a week's worth of portable salads (chopped vegetables, cooked grains and/or beans, and homemade dressing). Use quart-size jars for adult portions and pint-size jars for child portions, and pack them in this order:
1 to 4 tablespoons of dressing
Hard vegetables like carrots, cucumber, squash, green beans, peppers, and radishes, chopped
Cooked beans, hearty grains, or pasta
Cheese and proteins like hard-boiled eggs, tofu, cooked poultry/meat, or tuna
Fruits and softer vegetables like tomatoes and avocados
Nuts, seeds, and lighter grains like quinoa and bulgur
Salad greens like spring mix, arugula, and spinach
If you are including soft or especially perishable ingredients, such as hard-boiled eggs, cheese, cooked meat or poultry, fresh fruits, avocado, and tomato, add them to the jar on the day you plan to eat the salad. Click here and here and here and here and here for some tasty examples of jar salads.
Sandwiches
You'll never be bored at lunchtime if you stock up on Philly Muffins, Slow Rise bread, or Amaranth Bakery's gluten-free flatbread, along with a variety of sandwich fixings. For starters, try Soom Foods' tahini with roasted bell peppers, PB&Jams' cashew or almond butter with a handful of Kauffman's Dried Apple Schnitz, or sliced apple with Clover Creek's Mature Aged Cheddar cheese and Spruce Hill Preserves' hot pepper jelly.
Individual Pot Pies
This idea sounds way more complicated than it really is. With the help of frozen puff pastry or pre-made pie crust, along with a jumbo muffin tin, mini cake pan, or set of ramekins, you can whip up a week's worth of perfectly portioned chicken pot pies in less than two hours. (Check out this recipe, which uses pie crust, or this one, which uses puff pastry.) Just wrap them tightly in foil, store in the fridge or freezer, and heat them up in the microwave or toaster oven when you're ready for lunch. And to shake things up, use this method to make individual shepherd's pies, too.
Frittatas
You might not think of eggs as a portable option for lunch, but when they're made into a frittata, they become an ideal take-along nosh–sturdy, compact, and delicious warm or cold. Frittatas are great for showcasing all kinds of meats, cheeses, and whatever vegetables are in season. Plus, they're super inexpensive to make, and they require only half an hour of cooking time. This is a great recipe to begin with and this one will blow you away.
Polenta
Polenta makes a substantial base for all kinds of lunch options. Cook it in the slow cooker or on the stovetop over the weekend, and divvy it up into individual servings topped with roasted vegetables, stewed beans, tomato sauce, chili, or sautéed greens. For extra color and robust flavor, try Castle Valley's Bloody Butcher Polenta.
At the Farmstand: August 13 – 26
Posted August 13th, 2015
Peggy Paul Casella, Resident Wordsmith (and Farmstand Associate)
We all know that peaches, plums, berries, and melons are delicious in baked goods and other sweet applications, but why confine them to the dessert course? Exploring the savory side of summer fruits will shake up your cooking routine and unlock a whole new level of seasonal flavor.
If you're new to the whole fruit-for-dinner idea, start with something simple like grilled peaches and watermelon with feta and mint. Whip up a batch of blueberry or plum barbecue sauce to slather on ribs, tenderloin, or chicken wings. Or make a breezy meal of grilled clams with Peach, Tomato, and Basil Salad.
Of course, the Farmstand is fully stocked with all the summer fruits, vegetables, cheeses, and meats you need for your savory pursuits–even locally raised clams from Heritage Shellfish Cooperative, which pair surprisingly well with fruity flavors. Swing by for some inspiration, and savor the summer bounty while it lasts!
Here are some savory summer fruit recipes to get you started:
Blueberry
Cantaloupe
Peach
Plum
Watermelon
A Locally Sourced Fourth
Posted July 2nd, 2015
Peggy Paul Casella, Resident Wordsmith (and Farmstand Associate)
Do you have a favorite summer recipe? For me, it's Ina Garten's Fresh Corn Salad, tossed with basil, diced red onion, and a simple vinaigrette. I discovered it years ago when I was looking for something easy-yet-impressive to bring to a picnic, and it quickly became my go-to dish for every cookout and potluck of the season. Like other classic hot-weather salads (think caprese, tabbouleh, and watermelon-feta), its beauty lies in its simplicity–one focal ingredient enhanced by a few complementary flavors. And with yesterday's arrival of sweet white corn from Fifer Orchards (just in time for the 4th of July weekend!) I see a lot of it in my future.
Of course, corn wasn't the only exciting new delivery of the week. Yesterday we also received our first crates of yellow cling-stone peaches from Fifer Orchards; Oasis (Lancaster County) rolled up with an order of black raspberries; and Redhead Farms (Hammonton, NJ) brought fragrant flats of red raspberries and blackberries. Plus, we have plenty of blueberries from Blueberry Bill Farm (Hammonton, NJ) and a few more flats of sweet and tart cherries from 3 Springs (Aspers, PA) to round out whatever favorite recipe you'll be cooking up this weekend.
Whether you're planning to toss some burgers and hot dogs on the grill, make a vegetarian feast, or construct the perfect Independence Day pie, we've got you covered. And if you're still in the planning phase, here are a few patriotic recipes for inspiration:
Preserving the Season (June 4 – 17)
Posted June 4th, 2015
Peggy Paul Casella, Resident Wordsmith (and Farmstand Associate)
Here we are at the turn of a new growing season, as we place our last orders for strawberries, asparagus, and rhubarb and anticipate the first local harvests of cucumbers, peas, green beans, celery, broccoli, blueberries, and more. But before we turn all of our attention to the shiny new items of summer, let's relish the flavors of late spring, and preserve this sweet season for months to come.
Check out the following tips and recipes for preserving these last spring-crop deliveries–and enjoy them all year long:
ASPARAGUS: To freeze it, make sure you start with very fresh, rigid spears. Rinse them well, blanch them in boiling water for 3 to 4 minutes, then plunge the blanched spears into a large bowl of ice water for 3 to 4 minutes to stop the cooking and lock in the bright green color. Drain well. Pat the asparagus dry and transfer it to resealable bags or vacuum seal bags. Suck out all the air and freeze for up to 1 year.
Other ways to preserve asparagus:
RHUBARB: To freeze it, trim the stalks, then wash them and pat them dry. Cut the stalks into 1-inch pieces and place them in a single layer on a parchment-lined baking sheet. Freeze until solid, 2 to 3 hours, then remove from the freezer and transfer the rhubarb to resealable freezer bags or vacuum seal bags. Suck out all the air and freeze for up to 1 year.
Other ways to preserve rhubarb:
STRAWBERRIES: To freeze them, wash and hull the strawberries, and pat them dry. Place them in a single layer on a parchment-lined baking sheet. Freeze until solid, 2 to 3 hours, then remove from the freezer and transfer the strawberries to resealable freezer bags or vacuum seal bags. Suck out all the air and freeze for up to 1 year.
Other ways to preserve strawberries:
Plan Your Locally Sourced Cookout (5/21-6/3)
Posted May 21st, 2015
Peggy Paul Casella, Resident Wordsmith (and Farmstand Associate)
It's officially cookout season, and whether you're throwing your own get-together or bringing a dish to someone else's, we're fully stocked with everything you need. See below for a handy guide to crafting a delicious, locally sourced feast, from grilled meats and vegetables to salads, sides, and desserts.
ON THE GRILL
Burgers: We've got all kinds of ground meat for your burger-making needs–chicken from Griggstown; turkey from Koch's; beef from Buck Run, Landisdale, and Philly Cow Share; pork from Sweet Stem; lamb from Jamison; and goat from Stryker. Click here for basic instructions, and click here and here and here and here for extra inspiration. And see below for some tips for pairing cheeses with the different burger meats.
Chicken: The sustainably raised whole chickens from Griggstown and Meadow Run farms are ideal for cooking on the grill. Try your hand at beer can chicken or spatchcocked grilled chicken, both of which are super easy to make and impressively succulent.
Chops and Steaks: Grilled lamb chops (from Jamison) will blow your mind, and the bone-in pork chops from Country Time will also grill up beautifully, with lots of flavor and plenty of moisture (if you do it right). Plus, we've got all kinds of steaks from Philly Cow Share and Troutman that are perfect for the grill (see here and here and here for inspiration).
Hot dogs/sausages/brats: From Mosefund's Smoked Bratwurst and Country Time's game-changer hot dogs, to Griggstown's chicken sausage and Stryker and Sweet Stem's pork sausages and brats, you'll have no problem filling those hot dog buns. And to ensure that not a morsel goes uneaten, here's a handy guide to grilling sausages, via Serious Eats.
Shish kabobs: Start with a pack or two of beef cubes (from Troutman) or goat cubes (from Stryker), defrosted. Marinate the meat,* and then thread it onto skewers, along with onions or other vegetables that strike your fancy. Grill the kabobs for about 6 to 8 minutes, or until the meat is cooked to medium-rare. *Try this recipe for goat or lamb, or this recipe for beef.
Vegetarian mains: If you or any of your guests are vegetarian, or if you're just looking for lighter grilling options, pick up some thick portobello mushrooms (from Mother Earth) or firm tofu (from Fresh Tofu). Marinated tofu is a delicious alternative to burgers and other animal proteins, and grilled portobello mushrooms have a deep, complex flavor that will satisfy even your most fervent meat lovers, too.
SIDES AND SALADS
Grilled vegetables: Definitely pick up some asparagus (green from Fifer Orchards and purple from LFFC) for grilling, and also some onions (from Tuscarora), scallions (from Trauger's and Eagle Road Farm), and radishes (from LFFC, Buzby, and Oasis).
Green salads: With Country Hill's lacinato kale and romaine lettuce, Gehman family's mixed-head lettuce, Landisdale's bagged spinach and arugula, Blue Moon's microgreens, Heritage Farm's arugula/mustard mix, and LFFC's watercress, we're pretty sure we've covered all your salad bases. Ask anyone at the Farmstand cheese counter for the best cheeses to add to the mix, and don't forget to toss in some fresh herbs, too (from Heritage and Oasis farms). Click here and here and here for homemade salad dressing recipes that will complement these amazing local ingredients.
Potato salads: Whether you're a traditionalist or an adventurer when it comes to potato salad, we've got you covered. Use new red or Yukon potatoes (from Country Hill) for American, German, or herbaceous potato salad. Or grab some multicolored sweet potatoes (from Landisdale) for this mustardy version or this one with herbs and arugula.
DRINKS AND DESSERTS
Beverages: First of all, make herbal or strawberry soda, and be sure to save the strawberry tops to make refreshing infused water. For stronger libations, pick up some lemon balm (from Oasis) for this or this cocktail; basil (from Bux-Mont) for this one; or experiment with rosemary and thyme (from Heritage) and other herbs in mixed drinks of all kinds.
Granitas and ice creams: You don't need an ice cream maker to whip up some awesome springtime freezer desserts. Here's a super-simple recipe for Strawberry Granita (from Epicurious), and here's a recipe for strawberry ice cream, both with and without an ice cream maker.
Baked goods: This is the time for strawberry-rhubarb everything! Try the classic combo as a pie, a bar, a crumble, a crisp, a cobbler, or even a parfait.
**Recommended burger cheeses**
Beef: blue cheese; Ely Farm's Washington Crossing; Keswick's Wallaby or Frecon; Hidden Hills' Buttercup or Old Gold; Doe Run's Seven Sisters or St. Malachi; Connebella's Horseradish Cheddar or Sharp Cheddar; Wakefield's Bouche
Chicken: blue cheese; Hidden Hills' Old Gold or Buttercup; Doe Run's Hickory on the Hill, Seven Sisters, or St. Malachi; Calkins Creamery's Smoke Signal; Parish Hill's Idyll; Clover Creek's Tussey Mountain or Mature Aged Cheddar; Cherry Grove's Buttercup Brie; Wakefield's Bouche
Goat: Shellbark Hollow's Sharp Chevre; Yellow Springs Farm's Cloud Nine, Fieldstone, or Blue Velvet; Misty Creek's Kidchego; Meadowset's Camel's Back
Lamb: blue cheese; Hidden Hills' Bolton Feta; Caputo Bros. Ricotta; Meadowset's Camel's Back, First Bite, or Last Straw; Parish Hill's Suffolk Punch; Ely Farm's Washington Crossing; Connebella's Horseradish Cheddar; Roundtop's Sheep Camembert
Pork: Parish Hill's Idyll; Doe Run's Hickory on the Hill; Cherry Grove's Lawrenceville Jack; Goot Essa's Der Alpen Kase; Clover Creek's Tussey Mountain or Mature Aged Cheddar; Keswick's Frecon; Calkin's Cow Tipper; Wakefield's Bouche
Portobello mushroom "burgers": Misty Creek's Kidchego; Meadowset's Camel's Back, First Bite, or Last Straw; Ely Farm's Washington Crossing; Caputo Bros. Ricotta; Connebella Sharp Cheddar; Wakefield's Bouche; Shellbark Hollow's Sharp Chevre
Turkey: Clover Creek's Mature Aged Cheddar or Tussey Mountain; Connebella's Sharp Cheddar; Doe Run's St. Malachi, Seven Sisters, or Hickory on the Hill; Yellow Spring's Farm's Fieldstone; Hidden Hills' Bolton Feta or Old Gold
Veal: Doe Run's Hickory on the Hill, St. Malachi, or Seven Sisters; Parish Hill's Idyll or Suffolk Punch; Clover Creek's Tussey Mountain; Meadowset's Camel's Back, First Bite, or Last Straw; Ely Farm's Washington Crossing; Misty Creek's Kidchego
It's planting time! (At the Farmstand: May 7-20)
Posted May 7th, 2015
Peggy Paul Casella, Resident Wordsmith (and Farmstand Associate)
As any seasoned gardener will tell you, Mother's Day weekend is prime time for planting warm season plants. It's that sweet spot in the year when the soil is fully thawed and still moist from April rain, and the temperatures are above frost point but not high enough to scorch baby leaves and blooms. Plus, planting new flowers and vegetables seems like a good way to honor the one who gave you life, am I right?
To get your spring/summer garden started, head over to the Farmstand for some Bennett Compost (we've got 5- and 25-pound bags). Bennett collects food scraps from residences and businesses all over Philadelphia, which they then compost in bins located in gardens around the city.
New to the composting scene? Compost is simply organic matter (leaves and food waste) that has broken down naturally over time into a dark, crumbly substance resembling topsoil. It's a key ingredient in organic farming, as it naturally improves the structure and health of the soil while serving as a biological control against unwanted pests.
Here are a few ways to use compost in your home garden and backyard:
Work 1 to 2 inches of compost into the top 3 inches of soil in all in-ground and container vegetable and flower gardens.
Sprinkle a handful of compost in the bottom of each hole when you transfer plants to your garden.
When your plants grown to mid-size, spread 1/2 inch of compost around the base of each plant monthly to promote high yields and healthy vegetables.
Treat bald spots in your yard by working an inch of compost into the soil and then reseeding.
Apply compost as mulch around trees, shrubs, and other plants to prevent weeds, help reduce moisture loss, and stabilize the soil temperature.
Once your gardens, window boxes, and containers are tilled and treated with compost goodness, throw down some Pollinator Project Wildflower Seeds(available now at the 'stand) for a splash of color. The Pollinator Project was founded by a local beekeeper in response to the staggering decline in honeybee populations, attributed to the widespread use of certain harmful pesticides. Each packet of seeds contains a mix of perennials and annuals that will bloom year-round, creating a sustainable–and safe–energy source for honeybees and other pollinators.
No worries if your thumb is more black than green, or if you don't think you have the space to garden. Just fill a pot with soil and compost, toss in some of the wildflower seeds, water generously, and set it in a sunny spot. (For other gardening tips and projects, click here or here or here or here.)
Fresh & New: April 23 – May 6
Posted April 23rd, 2015
That being said, however, we've got a few other early spring vegetables that deserve to share the spotlight. There are breakfast radishes and arugula/mustard green mix from Sunny Harvest Co-op (Quarryville, PA); red radishes and scallions from Oasis (Lancaster County), spring onions and chives from Heritage Farm (Philly); spinach from Marolda Farms (Vineland, NJ), and field lettuce from the Rodale Institute (Kutztown, PA). And expert forager David Siller just brought in an impressive haul of tightly knotted fiddleheads, sinewy ramps, leafy patience dock, and stinging nettles from all around the area.
While radishes, scallions, salad greens, chives, and asparagus are familiar enough to most home cooks, wild-foraged vegetables may seem a little scary (nettles that sting?) or obscure (fiddle-what?). So, to help you glean the most from this time of year, here's a quick primer on the less-known delicacies of early spring, plus a few intriguing recipes to get you started:
Fiddleheads are furled-up baby fern fronds, which can be found poking through the soil in early to mid spring, on riverbanks and in dewy meadows all over the Northeast. Their season is very short–a matter of weeks–and they are only available as wild-foraged crops. A word to the wise: Raw fiddleheads can make you sick, so it is important to cook them before eating. Just blanch them in boiling water for 5 minutes, then sauté with a pat or two of butter until they are nice and tender. The texture and flavor will remind you of asparagus.
Patience Dock is a long-leafed salad green with mild, lemony flavor that is reminiscent of sorrel, a fellow member of the buckwheat family. It is known for its healing properties and has been used for centuries to detoxify the body, stave off disease, promote good eye sight, and treat skin various disorders. Since patience dock leaves are very tender, they do not take well to sautéing. For best results try them raw in salads, or blanch and stuff them with ground lamb and rice in the Romanian tradition.
Ramps are wild onions that taste like a mix between garlic and leeks. They are one of the first bright things to appear at the farmers' market each spring, with a super-short season that ends before many people even know it began. Over the past few years they have garnered quite the cult following among chefs and home cooks alike, and–lucky for us–all that hype has led to a wealth of recipes strewn across the interwebs.
Stinging Nettles are flowering herbs with delicious–yet prickly–leaves that can irritate your skin, so make sure to wear gloves when handling them raw. A quick blanch, steam, or sauté will deactivate the nasty stingers and render these greens tender and benign. They are rich in antioxidants, B vitamins, folate, potassium, iron, sulphur, and vitamin C, and they have also been shown to work as a natural antihistamine to alleviate the symptoms of hay fever and seasonal allergies. As far as flavor goes, think milder, more floral-tasting spinach.
A FEST for the Senses
Posted April 9th, 2015
Peggy Paul Casella, Resident Wordsmith (and Farmstand Associate)
The 4th annual Philly Farm & Food Fest is this Sunday, April 12th, and we can't wait to spend the day hobnobbing with regional farmers and food producers, sampling some of the best artisan goodies around, and geeking out on the local food scene with thousands of other likeminded Philadelphians.
If you haven't bought your tickets yet, I humbly suggest that you drop everything and click here immediately. General admission is just $20 in advance and $25 at the door, and that will get you an entire day's worth of workshops, demos, tastings, and exclusive access to the incredible bounty of the greater Philadelphia region.
Looking to join a Community Supported Agriculture (CSA) program? At this year's FEST you'll find a Pop-Up Shop featuring eight local farms that offer CSAs, so you can compare them side-by-side and choose the best one for your taste and budget. While you're there, make sure to swing by Lancaster Farm Fresh Cooperativeand Philly Food Works, both of which have CSA drop-offs at our Farmstand. (Mention the promo code FAIRFOOD when you sign up for a Philly Food Works CSA, and they'll make a donation to Fair Food!)
Here are a few other ways to get your $20 worth at this year's FEST:
Meet an alpaca
Attend informative and inspiring workshops with leading farmers, butchers & chefs
Learn how to build a chicken coop
Enter to win gift certificates from Whole Foods Market and Chipotle
Fresh&New: March 26-April 8 (Green at Last!)
Posted March 26th, 2015
Peggy Paul Casella, Resident Wordsmith (and Farmstand Associate)
I'm delighted to report that the first signs of green are popping up at the Farmstand! Just yesterday we received spring garlic from Landisdale Farm (Jonestown, PA), Valley Milkhouse's "Clover" (fromage blanc rolled in herbs) is back in the cheese case for the season, and jewel-toned emu eggs will arrive from Boody Mill Ranch (Sewel, NJ) by the weekend. We're also eager for next week's delivery of blue-green eggs from Meadow Run Farm (Lititz, PA) . . . plus whatever springy surprises our growers might have in store. (Though asparagus won't hit the 'stand until mid- to late April, we're told that our daydreams of fresh leeks, scallions, and fiddleheads might soon become reality.)
Oh, and did I mention that we've got eggs? Just in time for the spring holidays, our dairy fridge is overstocked (eggsploding, if you will) with eggs of all shapes, sizes, and colors–from colossal emu and oblong goose, to duck and multicolored chicken. Of course, if you're anything like me, you've already opened a new tab in your browser to research recipes for custard desserts, quiches, frittatas, and deviled eggs, but don't forget to set some eggs aside for dying, too. Even the brown ones can be transformed into vibrant gemswith natural dyes made from beets, onion skins, cabbage, coffee, and tea.
For your cooking adventures, here's a handy guide to the different kinds of eggs:
1 duck egg = 1 extra-large chicken egg; great forbaking–higher fat content will help cakes rise higher and keep meringes more stable
1 goose egg = about 2 large chicken eggs; higher yolk-to-white ratio makes for richer texture and flavor–great for homemade pasta and richer, denser desserts (if using goose eggs for lighter, fluffier cakes, you can offset the richness by tossing in a chicken egg white)
1 emu egg = about 8 large chicken eggs; higher yolk-to-white ratio makes for even richer texture and flavor than that of goose eggs–best used insavory egg dishes (they will take about 2 hours to hard-boil)
**Are you excited yet to plan your spring holiday feast?The deadline for pre-ordering ham and brisket is quickly approaching (5pm on Sunday, 3/29), so make sure you don't lose out on these delicious, naturally raised meats!**
Choosing Heritage Breed Meats
Posted March 19th, 2015
I can't think of a better time than early spring to sing the praises of heritage breed and naturally raised meats. For home cooks all over the country, this is the time for traditional feasts of ham and brisket and leg of lamb. And for farmers who raise their livestock the sustainable way–on pasture–this is prime birthing time, when new growth in fields and foraging areas ensures ample nutrients for the young.
Unlike commercial livestock that are confined to stalls and plumped up with hormones and cheap grain, heritage breeds and other sustainably raised livestock roam free with access to the diets their ancestors have been eating for centuries. "Heritage" refers to traditional livestock breeds that have not been genetically altered for commercial gain and display the same attributes as their breeds did hundreds–or even thousands–of years ago. These attributes, such as good maternal instincts and foraging abilities, cold (or heat) tolerance, and disease and parasite resistance, make heritage breeds much hardier than their commercial counterparts. And their natural diets of grass and bugs and other organic materials, paired with their active lifestyles, make them much more flavorful, too. Though it takes longer for these traditional breeds to reach their market weight, and raising them is therefore more expensive for farmers, the benefits of taste, texture, nutrients, and humane treatment far outweigh the cost.
Basically, what it comes down to is this: When you choose heritage breed and naturally raised meats, everybody wins. You get to experience some of the most flavorful, exceptionally marbled meat there is, the farmers get the money they need to keep raising animals the way nature intended, and that gives these heritage breeds a consistent purpose in our agricultural system. (This is a favorite subject of mine, if you haven't already guessed.)
So this year, if you're hosting an Easter or Passover dinner, or any other big gathering, may I suggest ordering a naturally raised brisket or heritage breed ham? Or why not swing by the Farmstand for legs of heritage breed lamb from Jamison Farm, and other naturally raised/heritage breed cuts and roasts from Sweet Stem, Stryker, Country Time, Philly Cow Share, and N.S. Troutman & Sons.
For more information about heritage breeds, click here or here or here.
And if you need some planning help, check out these menu ideas for Easter and Passover gatherings: