Fresh & New: Jan. 22-28
Posted January 22nd, 2015
Fresh and New: June 19 – 26
Posted June 19th, 2014
Alex Jones, Product Manager   
It's almost officially summer, and the Farmstand really reflects the variety of produce we're seeing as the cool season transitions into hot weather. While we're stocked with all your local meat, dairy, and pantry needs, produce is really poppin' this time of year. Here's what's fresh this week and what we're looking forward to as the new season begins.

FRUIT: Delaware berries are done for the season, but we're still stocking ORGANIC STRAWBERRIES in pints from Taproot Farm while they last. Don't despair – IPM  BLUEBERRIES from Blueberry Bill are slated to arrive on Friday! And we're also  hoping to get in a late-season variety of CHEMICAL FREE BLUEBERRIES from Paradise Hill Farm's Pine Barrens location – we'll keep you updated as the season progresses. If you're tired of pies, cakes, scones, cobblers, crisps, and roly polys (as if), try making blueberry buckle, a free-form sort of cake-cobbler-crumble. How could that not be delicious? 


Yet more fruit from New Jersey: David Siller is bringing us a mix of WILD FORAGED MULBERRIES in dark and white. These drupelet-studded fruits are super-sweet and juicy, but their season is short – don't miss out! If you keep your eyes open (and notice some squishiness on the sidewalk), you can also find mulberries growing in many streets and yards around Philadelphia. Unfortunately, it's not all good news in the fruit world: We're hearing that this season's CHERRY crop – both SWEET and SOUR – has been really poor, between deep-freezes this winter and hailstorms this spring. There's a chance our orchards will have enough to supply us, but so far it's not looking good. (That doesn't mean you can't get cherries anywhere – Three Springs Fruit Farm and Beechwood Orchards are hoping to have enough to supply their farmers' markets, so you can catch them there. Watch this space for cherry season updates! 


VEGGIES: Oasis at Bird-in-Hand brings us CHEMICAL-FREE GREEN BEANS, and IPM PICKLING CUCUMBERS from Buzby Farm are in season too! These petite, curved cucumbers – called knobs by growers when they're at this size – are awesome for pickling, and they're a great deal at $.99/lb. Paradise Organics has brought us FENNEL for slaws, salads, sautees, and grilling. Our friends at Zone 7 are bringing Brenmar Farms' CHEMICAL FREE PATTYPAN SQUASH in a variety of sizes along with Formisano Farms' crinkly, curly-leafed SAVOY CABBAGE – amazing in this super-simple, spicy slaw. 


NEW RED and YUKON POTATOES are in from Country Hill Produce via Common Market – and we're stocked with DILL and GARLIC SCAPES to help you make a killer potato salad. If you're mayo-phobic like me, you'll be glad to know that we're getting Natural By Nature's SOUR CREAM back in stock. Try it on this 
steakhouse-inspired potato salad
 (there's BACON on it!). For something special, grab a 6-pack of squash blossoms from David Siller – they're delicious stuffed and fried, but 
there are lots of different ways to enjoy these beauties
.
Local Leads at Philly Farm & Food Fest
Posted April 17th, 2014
Emily Kohlhas, Fair Fooder 
Lugging seeds, starts, jars, bags, loaves, wedges, you name it, the families and friends behind nearly 150 farms, artisan products, and sustainable businesses arrived bright and early at the PA Convention Center for the 3rd Annual Philly Farm & Food Fest this past Sunday. And that includes us at the Fair Food Farmstand!
Sandwiched between the handcrafted breads of Metropolitan Bakery on one side and the ayurvedic tonics of Down Dog Healing Café on the other, we featured some of our favorite local cheeses from Keswick Creamery and The Farm at Doe Run. Across the way, Christina Maser showcased her own line of natural, homemade bath and beauty products. Behind us, students from the UDel College of Agriculture and Natural Resources served up cones of the ice cream they produce with milk from the university's herd of grass fed cows. Down the aisle the Fehon family sampled tastes of the BBQ sauce they make according to their father's tried-and-true recipe, donating part of their proceeds to research the condition that keeps him from making the sauce himself.
Case in point, Philly Farm & Food Fest has a wonderful way of bringing to life the amazing diversity of our local food system – literally! We learned the stories behind some of our favorite farms and products, making meaningful connections that just aren't possible through an online order form or on the shelves of a grocery store.
What else did we learn at Fest? Oh, you name it:
>> Oysters grown in the Delaware Bay don't just taste amazing, they have ecological benefits too, restoring water quality and biodiversity to the bay.
>> You can grow rice in South Jersey! Blue Moon Acres is growing certified organic Arborio rice right across the border.
>> Both Castle Valley Mill and Daisy Flour use organic spelt grain grown by the Steigman family of Small Valley Milling.
>> There's such a thing as locally grown tea. Healcrest Urban Farm in Pittsburgh is growing and blending their own artisanal, healing teas!
>> It takes 40 gallons of sap to make one gallon of Spring Hills Farm's maple syrup.
>> People love Keswick Creamery Wallaby! We sold out of this creamy, slightly citrusy cheese well before the day was out.
But the coolest thing we learned from Fest is that good food isn't just a passing trend. It's here to stay. In a panel discussion hosted by Clark Wolf featuring some of the region's coolest advocates for real food, the conversation was decidedly upbeat. Doctors, bakers, chefs, entrepreneurs, professors, and enthusiastic eaters…we were all in agreement: it's time to start eating real, eating well, and eating local. And, as the throngs of visitors at this celebration of food from seed to table confirmed, we're ready to take on the challenge!
*Photo credit: Foobooz
Wild for Spring – At the Farmstand: April 17-23
Posted April 17th, 2014
It's finally feeling like spring – and with the warm weather and rainy days come the new season's goodies! Our forager friend David Siller has brought us the first precious RAMPS, and we expect another delivery of PATIENCE DOCK, NETTLES, and new FIDDLEHEAD FERNS by this weekend! Foraged food comes and goes out of season quickly, so hurry to the market to make sure you get your fill of these rare, once-a-year wild foods.
We're also adding in big bunches of I.P.M. BROCCOLI RABE from Petrongolo Farms, and ORGANIC FRENCH BREAKFAST RADISHES from Landisdale Farm. And Blue Moon Acres brings us their first certified organic field crops, BABY SPINACH and BABY HEAD LETTUCE, on Friday. Make sure you save space for these spring goodies on your Easter table, along with new soft-ripened cheeses like Keswick Creamery's FROSTY MORNING, King's Kreamery's RING OF FIRE, and Doe Run's super-limited, Neufchatel-style bloomy rind, DRAGONFLY. Read more about local spring cheeses in this great piece by Madame Fromage!
For you Easter celebration, we've still got a few pastured, nitrate-free smoked HALF HAMS from Meadow Run Farm, as well as Griggstown DUCK BREAST, Brooke-Lee RABBIT, and Jamison Farm's BONELESS LEG OF LAMB as your mouthwatering centerpiece. And of course, EGGS of all kinds – emu, goose, duck, brown and multicolored chicken, and maybe even some rare TURKEY EGGS.
But before Sunday's celebration, I want to report back on some of the amazing new products I spotted at our own spring festival, the Philly Farm & Food Fest! Read on to see some of my favorite locally produced items from last week's event – and be sure to give them a try if you see them at the Farmstand this season.
Our friends at Blue Moon Acres, growers of immaculate, organic microgreens and salad mixes, made me and other local food nerds gasp with the debut of a new product they'd been sitting on since last fall: ORGANIC ARBORIO RICE grown in their Pennington, NJ fields. For now it's only available at their farm store there, but it should be available for wholesale to outlets like the Fair Food Farmstand after the Fall 2014 harvest. I'm going to use this batch in a ramp risotto.
Happy Cat Farm is in the tea game, too – I first tried their fragrant, healing HOLY BASIL tea blend when our Programs Coordinator, Annemarie, brought some to the office. I couldn't leave Fest without a tin of my own, and I hope to get it on the Farmstand's shelves this season.
Healcrest Urban Farm came all the way from Pittsburgh with their teas, tisanes, and frozen tea pops to be at Fest, and I'm so glad they did! Not only because I believe that when it comes to farm food and small, artisan products, Pennsylvania's east and west coasts should work together more – but also because Healcrest grows its own culinary and medicinal herbs on a 1.5 acre urban farm. This COCONUT GREEN CHAI is one of the few blends that includes actual tea and makes for an excellent afternoon sip.
John and Sukey Jamison of Jamison Farm supply some of the country's top chefs and hobnob with culinary legends – but the thing Sukey made sure I didn't leave their table without was a pack of their new LAMB HOT DOGS. Made with pastured, grass-finished lamb, they're a new twist on a summertime standby.
Farmer Donna Howard of Spotted Hill Farm makes something a little different with the milk from her herd of goats: A wide array of SOAPS in dozens of scents that include organic herbs and oils. I love the fresh scent and astringent qualities of tea tree oil, so I picked Tea Tree & Seaweed to try out. If you see me around and I smell extra-good, that's probably why.
Small Valley Milling grows and mills organic grains near Williamsport, PA and supplies some other local mills, like Daisy Flour and Castle Valley Mill. This PURPLE CORNMEAL – from a GMO-free hybrid variety called Suntava – is packed with free-radical-fighting anthocyanins, even more than blueberries when compared cup for cup.
See you at Fest!
Posted April 10th, 2014
Dear Fair Foodies,
Spring is one of the best times to be an advocate for local food. Those first glimpses of green at the Farmstand and the return of hustle and bustle to our neighborhood farmers' markets get us excited about the growing season ahead of us.
And to kick it all off we bring you the Philly Farm & Food Fest.
We are thrilled to be hosting this epic one-day marketplace with PASA for the third year in a row. It gives thousands of people a chance to connect directly with the farmers and food artisans that keep them well fed and well nourished. For us at Fair Food, seeing farmers, food artisans, cooks, moms, dads, kids, foodies, and eaters of all kinds come together to celebrate the start of another bountiful growing season in our beautiful region is a powerful embodiment of our mission.
Please come out and be part of the celebration this Sunday. It's a great day full of shopping, sampling, and learning with local food lovers of all flavors! Hope to see you at Fest!
Ann Karlen
Executive Director
Fair Food Philly
Sunday, April 13, 11am-4pm
PA Convention Center Annex
Click here to view the guidebook!
At the Farmstand: April 10-16
Posted April 10th, 2014
Alex Jones, Product Manager 
Between slowly-emerging spring crops and preparation for Philly Farm & Food Fest, things are bustling around the Farmstand! We've just gotten an update from our forager friend David Siller, who hopes to bring us wild PATIENCE DOCK and NETTLES this week. David also let us know that he's starting to see FIDDLEHEAD FERNS, but they're not quite ready yet – keep an eye on our Facebook page to know when we get our first delivery!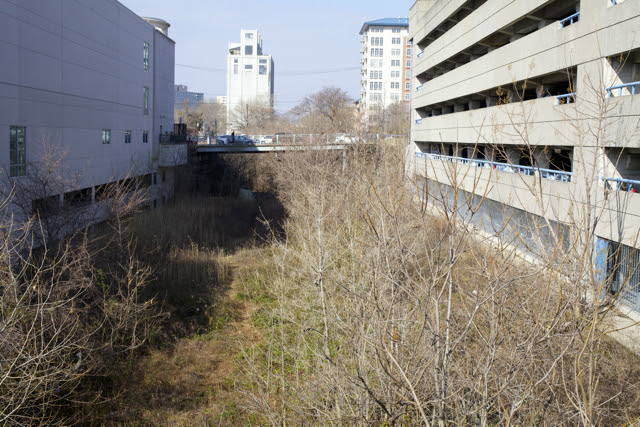 Speaking of Siller, we're super excited that the next session in our educational workshop series will be a foraging field trip in the City Branch portion of the Reading Viaduct! David will lead attendees on an edible plants tour of this wild, urban space on April 27.
The City Branch is a below-grade, open-air section of disused railway parallel to Callowhill Street and west of Broad Street – a perfect spot for wild plants to take root. We're so excited to co-present this event with Friends of the Rail Park (who are working on turning this space into another awesome Philly park) and SEPTA, who have graciously granted us access the City Branch. Fair Food will donate a percentage of the proceeds for this event to Friends of the Rail Park. Click for more info and to buy tickets!

Elsewhere at the Farmstand, we're making plans for holiday meats to make your Easter and Passover celebrations delicious! Contact alex@fairfoodphilly.org to reserve a ham from Sweet Stem Farm, Meadow Run Farm, or Country Time Farm. We also have some Meadow Run grass-fed brisket and Jamison Farm lamb cuts coming in, but quantities are limited – place your order before they're gone!
On Saturday, April 12, look for the Fair Food table in Center Court at Reading Terminal Market's SpringFest. From 10am to 4pm, we'll be selling all kinds of exotic eggs – EMU, GOOSE, DUCK, QUAIL, and both BROWN and MULTICOLORED PASTURED CHICKEN EGGS. Get prepared for Easter with these beautiful, rare, and unique eggs, whether you're preparing a frittata or decorating with the shells.
And Sunday, April 13 is the big day! Join us for the 3rd Annual Philly Farm & Food Fest, at the Convention Center from 11am to 4pm (tickets available online here). Keep an eye out for the Fair Food Farmstand's table – we'll be selling and sampling some of our favorite cheeses from Doe Run Dairy, Roundtop Farm, and Keswick Creamery, plus RipRap Baking's delicious sourdough flatbread crackers. And while I'm excited for all of the awesome Fest vendors, be sure to visit Fair Food members. Look for the Fair Food logo at their tables and show them some extra love!
Whole Animal, Whole Story with Philly CowShare
Posted April 3rd, 2014
Jessica Moore, Founder, CEO, & Chief Wrangler, Philly CowShare
Philly CowShare delivers local meat, including 100% grass-fed beef and pastured-raised pork, from responsible regional farmers and butchers to people who want to eat well. We are passionate about delicious and nutritious food, supporting regional farmers and butchers, sustaining the land, and caring for animals. We share that passion with our customers and provide them not only with easy access to humane, sustainable meat, but also to more and better ways to enjoy every part.
If you prefer to know where your meat comes from but don't have extra time in your day to do the research on farms or navigate the butchering process, Philly CowShare is here. We do all the heavy lifting for our farmers and customers while giving you the story behind your purchase. Delivery comes right to your door. We even have a program to buy as a group and save some money because it's more fun with friends!
This year, we will be at Philly Food & Farm Fest on April 13. We're bringing our expert butcher, Bryan Mayer of Kensington Quarters, to answer your questions. Kevin Tucker, our farm manager, will also be onsite to answer your questions about our farms and the environmental benefits of pastured-raised meats.
Even better, we are giving away a free chicken with every order made by Fest attendees. Get your tickets to Fest and place your order by April 12 to receive a free chicken and free home delivery!
We would like to thank Ann Karlen and the staff at Fair Food and the Fair Food Farmstand in the local, healthy food movement. As a national and local leader, they have opened up opportunities for businesses like Philly CowShare to serve our community. Thank you Fair Food!
Philly CowShare is proud to support Fair Food and the Pennsylvania Association of Sustainable Agriculture, two key organizations at the foundation of the local, clean food movement, by participating in Philly Farm & Food Fest. Tickets and more info: www.phillyfarmfest.org.
Fresh & New: At the Farmstand April 3-9
Posted April 2nd, 2014
Alex Jones, Farmstand Product Manager
As we've seen over the past several weeks, spring 2014 has unfurled a little more slowly than most of us would like. On one hand, that gives a little more time for procrastinators like me to plant our gardens with HEIRLOOM SEEDS from Happy Cat Farm – but what's less fun is that compared to 2013, we're about 2 weeks "behind" last year's drop dates for spring crops.
However, I'm pleased to announce that Landisdale Farm has sent us their first harvests of ORGANIC SPRING GARLIC this week! Use bulb, stem, and leaves of this mildly-flavored young garlic to flavor recipes as you would its mature, cured version. It makes a great pesto and a great soup, too. Serve alongside Oasis at Bird-in-Hand's CHEMICAL-FREE OVATION GREENS salad mix – a zesty blend of baby red mustard greens, tatsoi, kale, mizuna, and arugula.
While seeds will sprout and cold crops will flourish based on daylight hours and soil temperature, animals that reproduce in the spring – like sheep and goats – will pop on time whether it's snowing orspringlike. And fowl increase their production with the changing seasons, too – so while we've been waiting for veggies, we at the Farmstand have turned our excitement to EGGS!
Last Sunday, I took to the country roads of South Jersey to check in with two fowl farms, one a brand new vendor and one a Fair Food tradition: Stow Creek Quail in Bridgeton and Boody Mill Emu Ranch in Sewell, respectively. (Check out photos from the fowl-filled trip on Facebook).
Stow Creek farmer Loriann Gibson and her husband Brandon keep horses, a few goats, and heritage breed pastured chickens on a handful of acres in a part of the state where feral pigs and wild turkeys roam free – but the heart of their business is quail, specifically QUAIL EGGS. When Gibson graduated from University of Delaware's animal sciences program in 2010, she knew she wanted to work with animals, and quail became the perfect fit.
Gibson raises a small flock of Coturnix (AKA Japanese) quail, a variety bred by Texas A&M University to produce almost an egg a day on average – nearly as often as chickens do. This breed is delicate, and to avoid the use of antibiotics, Gibson keeps her adult birds in a roomy hutch elevated several feet off the ground. That protects them from predators and decreases the chance that diseases from wild birds will make it to her animals.
We're stocking Stow Creek's beautifully-patterned quail eggs in dozens this spring – stock up for Easter, or just experiment with a fun, delicious new food. Gibson's favorite ways to cook quail eggs are scrambled with a good truffle cheese or 4-5 eggs fried all together, like a chicken egg with several small yolks. Or try them fried on a slider, perhaps?
After my quail primer, I headed back north to Sewell, NJ – more suburb than country, but the woods off of NJ-45 conceal a surprise: Boody Mill Emu Ranch, where large animal vet Dinah Flack and her husband Marcus Bass raise a dozen or so of these fascinating, dinosaur-like flightless birds.
Flack and Bass became emu owners sort of by accident: back in the '90s, investing in emu, ostrich, and other ratites became a sort of fad for the wealthy, and Boody Mill was originally supposed to be where these investments were cared for until payoff – that is, breeding, then processing for meat, skin, and oil (emu oil, refined from their fat, is reputed to have analgesic effects). But the emu bubble burst, and the proprietors of Boody Mill found themselves owning their flock. The pair-bonded birds are kept on the wooded land behind their home in several 100-foot pens, where the 5'-tall birds have plenty of room to stretch their scaly legs.
Lucky for Flack and Bass (and for us), the now-20-something-year-old mob of emus (yes, that's what you call a group of these birds) make fun, chill pets – and they're still laying their amazing EMU EGGS each winter.
Emu eggs are laid by female emus during the cold months, when they can be kept warm by brooding males. The males will gather the brilliant blue-green eggs into a pile using their chins, then plop down on them for several weeks without eating, only getting up to drink a little water. In a farm situation, one simply straddles the brooding male, lifts him up around the ribcage, and grabs the eggs — he doesn't seem to notice.
Once harvested, the eggs last for several months because their thick shells keep the white and yolk inside fresh – and those shells have to be thick: the female lays them while standing up, so they've got to survive a drop of several feet.
There are two ways to open an emu egg: One is to crack it open just as you would a chicken egg (but with a little more force). The other is to drill holes in the top and bottom of the shell, then blow out the egg so that the shell stays intact (and perfect for decorating). The contents of the shell has a slightly higher proportion of yolk to white than a chicken egg, with a mild, pleasant flavor and a fluffy, delicious texture when used in baking, quiches, or scrambles. It's about the same volume as eight good-sized chicken eggs. Last year, I turned mine into a light, airy spinach and spring garlic frittata. (I can't recommend hard-boiling them, though – an acquaintance tried it last year and the results were, sadly, not edible.)
Emu eggs (and the dishes made from their contents) make awesome gifts/Easter basket items for the foodie, dinosaur lover, or Game of Thrones fan in your life! We'll be selling them at the Farmstand while supplies last, and at Reading Terminal Market's SpringFest from 10am-4pm on April 12, along with quail, duck, goose, turkey, and brown or multicolor chicken eggs.
Ring in Spring at Philly Farm & Food Fest
Posted March 27th, 2014
Fair Food is so pleased to be working with the PA Association for Sustainable Agriculture (PASA) again to bring you the Third Annual Philly Farm & Food Fest on April 13, 2014 from 11am to 4pm!
We hope you will join us to kick off the growing season with a huge day of sampling, shopping, and learning at our region's largest gathering of local farmers, food artisans, restaurants, and sustainable businesses. There will be over 140 vendors; cooking demos; workshops with Don Shump of Philadelphia Bee Co. and Marisa McClellan of Food in Jars; book signings; family friendly activities including a director-led preview of new Philly-made movie Watermelon Magic; an expert panel discussion led by nationally-known food blogger Clark Wolf; and so much more.
…and did we mention that kids under 12 get in free?!
Check out the online event guide (or find it in this month's Grid Magazine) for a full preview!
We've even expanded our offering of exclusive tasting sessions! With a $15 upgrade to your general admission ticket, you can enjoy a guided tasting of either (though why not both?!) a selection of local spirits from makers like Dad's Hat Rye, Philadelphia Distilling, Victory Brewing, Subarashii Kudamono, and more in the Local Libations Lounge – or a series of delicious, fresh, locally-raised oysters and clams, curated and led by Sam Mink, owner of Oyster House Philly, at the Shellfish Salon. You'll have the opportunity to meet the makers and truly get intimate with the decadent side of Philly's terrior.
DETAILS & TICKETS
3rd Annual Philly Farm & Food Fest
Sunday, April 13, 2014 – 11am to 4pm
Pennsylvania Convention Center Annex
General Admission: $20 in advance, $25 at the door*
*Children under 12 are free
Local Libations Tasting: $15 (advance only)
Shellfish Salon Tasting: $15 (advance only)
All proceeds benefit Fair Food and PASA.
Fresh & New – At the Farmstand March 27-April 2
Posted March 27th, 2014
Alex Jones, Product Manager 
This space is usually reserved for updates on products at the Fair Food Farmstand – like how DRIED JUJUBES and MULTICOLORED PASTURED EGGS are back in stock! But today, I'm excited to share some news that has to do with Fair Food's consulting work – and some of our Farmstand vendors and member businesses.
Back in January, we got a call from Mrs. Green's Natural Market, a Connecticut-based chain of small, health-focused grocery stores that's expanding all over the continent. Besides their original Connecticut stores, the company has locations in New York, Virginia, Chicago, and Toronto, with the Princeton, NJ area next on their list. They emphasize food that's fresh and healthy – all produce in their stores is certified organic, other products must contain natural ingredients, and their prepared food section makes it easy to grab delicious, good-for-you meals on the go.
Mrs. Green's wanted help building relationships with small, sustainable, local farmers and food artisans in Pennsylvania and New Jersey. Since Fair Food's mission is to build markets for local farmers and producers, we jumped at the chance to be a part of this process.
And after a few months of hard work (and lots of tasty product sampling), the very first Mrs. Green's in New Jersey will open this week! The West Windsor store – located just outside Princeton – will sell local products from bread and cheese to kombucha and black garlic alongside certified organic produce and healthy, natural national and international brands.
To mark the occasion, Mrs. Green's West Windsor is throwing a party before their opening. Meet and sample delicious products from local vendors Cherry Grove Farm, Christina Maser Pantry, Griggstown Farm, Subarashii Kudamono, and Vera Pastatonight from 6:30-8:30 at the new store's Preview Celebration, and pop in to shop when the store officially opens for business on Friday at 8am.
And while you're there, keep an eye out for awesome local products from these Farmstand vendors:
Bill's Best BBQ Sauce | Cherry Grove Farm
Christina Maser Pantry | Daisy Flour* | Donna & Co*
 Epic Pickles | Food & Ferments | Fresh Tofu*
Gilda's Biscotti | Griggstown Farm | Lancaster Farm Fresh Co-op
Obis One Black Garlic* | Pequea Valley Yogurt
Righteous Felon Jerky | Stinky Girl Beauty Co. | Stryker Farm
Subarashii Kudamono | Tait Farm | Vera Pasta | Wild Flour Bakery
*Fair Food member business