Countdown to Thanksgiving: Sides & Desserts
Posted November 19th, 2015
While the bird may steal the spotlight at most Thanksgiving feasts, at Fair Food, we're just as excited about sides, desserts, and trimmings– where fall produce shines in all its jewel-toned glory. Beat the crowds and swing by the 'stand this weekend to stock up on ingredients for next week's big event. From flour, dairy, and eggs, to mounds of fresh fruits and vegetables, we've got everything you need to craft the perfect, locally sourced meal.
In case you're still in the planning stages, here's a round-up of recipes for sides, desserts, and other trimmings get you started:
Starters & Soups
Breads
Greens
Potatoes
Stuffing
Other Vegetables
Sauces
Drinks
Desserts
Thanksgiving Countdown: Prep Ahead
Posted November 5th, 2015
Peggy Paul Casella, Resident Wordsmith (and Farmstand Associate)
To some, Thanksgiving might seem far away, but if you're the one hosting (or if you've been tasked with preparing a large portion of the meal), these next few weeks will zip by in no time. Good thing the Fair Food Farmstand's got your back. The 'stand is brimming with all the fresh vegetables, flours, dairy products, and cheeses you'll need. And with four different naturally raised turkeys and a variety of specialty birds available for pre-order, along with fresh breads and desserts, ice cream, and even oysters, we're here to ensure that your Thanksgiving is a delicious, locally sourced success. Click here to pre-order your turkey and treats today!
Here's a handy schedule to help you plan ahead and prevent a holiday meltdown:
2 to 3 weeks before:
Figure out what you're making or bringing for Thanksgiving, and delegate other dishes/tasks if necessary
Make and freeze dough for pies
Assemble your apple or other non-dairy pie completely (but don't bake it), place it in an airtight plastic bag, pan and all, and stick it in the freezer
Make and freeze any non-dairy soups or stews
Make and freeze cranberry sauce
Make and freeze turkey stock and gravy
Make and freeze pumpkin puree for pie
Bake and freeze breads and dinner rolls
Take inventory of your dinnerware, serving pieces, linens, etc., and purchase or borrow anything you'll need the day of
1 week before:
Write out your entire menu, including the dishes you're making and those others are bringing
Create a cooking schedule for the day of
Print out or make copies of all the recipes you will be making
Create a grocery list
Clean out your fridge
2 to 3 days before:
Pick up your turkey and let it defrost if necessary
Do your grocery shopping
Remove all frozen dishes/components from the freezer and place them in the refrigerator to defrost
Cut up all of the vegetables you'll need for each recipe and refrigerate them in separate airtight containers, labeled with the name of the dish they belong to
Make your brine (if desired)
Place wine and beer in the refrigerator or another cold place to chill
Clean the house
The day before:
Bake any pies and/or other desserts
Prep any remaining ingredients for your recipes (Pre-measured spices can be stored in airtight plastic bags on the counter, and pre-cut herbs can be stored in airtight containers in the fridge)
Prep stuffing and other side dish recipes for the oven; cover and refrigerate
If you're not already brining your turkey, season it inside and out with generous amounts of salt and pepper, cover with foil, and refrigerate overnight
Make dressing and wash, dry, and chop lettuce and vegetables for salad; refrigerate the components in separate airtight containers
Decorate and set the table
Thanksgiving Day:
Remove the turkey from the refrigerator in the morning and let it stand at room temperature
Roast the turkey
Bake the stuffing and any other casseroles and/or side dishes
Heat up the gravy and any other pre-made dishes
During dinner, rewarm pies and other hot desserts in the oven
Thanksgiving Countdown: The Bird
Posted October 22nd, 2015
Peggy Paul Casella, Resident Wordsmith (and Farmstand Associate)
With Thanksgiving just 35 days away (!!!), it's time to start getting your turkeys in a row. There are guests to invite, menu items to delegate, and, most importantly, there's the bird to consider. Chances are, if you're reading this newsletter you already know the benefits of choosing pastured and sustainably raised turkeys for your holiday feast. Not only are they more flavorful than their butterball counterparts, but they're also more nutritious, since they are raised as nature intended, with room to roam and plenty of grass, bugs, and worms to eat. While conventional turkeys are pumped with hormones so they develop giant breasts in record time, sustainably raised turkeys are left to grow at their own pace, resulting in a more even ratio of thigh to breast meat, and a thin layer of fat that infuses the meat with flavor as it roasts.
Here are a few things to keep in mind when roasting a sustainably raised bird:
No brine needed. Since these birds are flavorful on their own, you won't want to drown them out or water them down with a wet brine. Keep it simple with a salt and pepper rub or a dry brine instead.
Let it rest before and after cooking. Remove your turkey from the fridge 45 minutes before you're ready to roast it. Bringing it to room temperature (or at least close to room temperature) will decrease oven time and improve the texture and moisture of the meat. Then let it rest for another 45 minutes when it comes out of the oven. This second rest will allow the juices to settle before carving, so they end up in your belly and not in the grooves of your cutting board.
Try braising. The richer flavor of pastured birds really shines when braised in beer, wine, or broth.
Cook it low and slow. The smaller stature of pastured turkeys means shorter cooking times, but in order to unlock optimum flavor, you'll want to roast them long enough for their fat to render and infuse the meat. Opinions vary, of course, but I've found that the best technique is to roast at high heat for the first 30 minutes, then reduce the temperature to 325°F until the meat registers 165°F on an instant-read thermometer.
At the Farmstand: October 8 – 21
Posted October 8th, 2015
Peggy Paul Casella, Resident Wordsmith (and Farmstand Associate)
In light of this week's pumpkin bounty from Stepped in What Vegetables–a whopping eleven different varieties!–now seems as good a time as ever to brush up on the culinary uses of these fall/winter cucurbits. Did you know, for instance, that Hubbard Squash and Cheese Pumpkins make tastier, richer pies than the standard so-called "Pie Pumpkins" do? Or that pumpkin purée can be used in place of eggs and oil in baking? How about savory recipes? Have you tried adding cubed pumpkin to chili, or stuffing and roasting one for an impressive main dish?
Whether you're planning to make just one pie or a season's worth of recipes, here are some tips and tricks for cooking with these incredibly versatile vegetables:
To Make Pumpkin Purée: Preheat the oven to 375°F and spray 2 baking sheets lightly with cooking spray. Hack the pumpkin in half, scoop out the seeds, and cut the pumpkin into manageable wedges (about 2 to 3 inches thick). Place the pumpkin wedges on the prepared baking sheets in a single layer, and roast for 45 to 60 minutes, until the flesh is tender and the skin is easily pierced with the tip of a knife. Remove the pumpkin from the oven. When it is cool enough to handle, scoop the flesh into a food processor or blender and process until smooth. Then transfer the purée to a colander or fine-mesh sieve, set a plate directly on top of the purée to weigh it down, and let it drain over a bowl for at least 45 minutes, until the purée is as thick as custard. Reserve the pumpkin juice to use in place of water in other recipes.
For pies and other baked goods . . . 
Try Hubbard Squash, Cheese Pumpkins, Sugar Pie/Lil' Ironsides, Fairytale/Musque de Provence, Cinderella, and Porcelain Doll.
For soups, stews, and casseroles . . . 
Try Turban Squash, Fairytale/Musque de Provence, Cinderella, Peanut, and
Porcelain Doll.
For stuffing . . . 
Try Cheese Pumpkins, Sugar Pie/Lil' Ironsides, Fairytale/Musque de Provence, Cinderella, and Porcelain Doll.
For roasting, pastas, and pizzas . . . 
Try Turban Squash, Hubbard Squash, Cheese Pumpkins, Sugar Pie/Lil' Ironsides, Peanut Pumpkins, Fairytale/ Musque de Provence, and Porcelain Doll.
For smoothies, juices, and parfaits . . . 
Try Cheese Pumpkins, Sugar Pie/Lil' Ironsides, Peanut Pumpkins, and Porcelain Doll.
For decoration and Jack O' Lanterns . . . 
Try Baby Boos, Jack be Littles, Sugar Pie/Lil' Ironsides, Cinderella Pumpkins, Field Trip, and Porcelain Doll.
Click here and here and here for some inspiration.
At the Farmstand: September 24 – October 7
Posted September 24th, 2015
Peggy Paul Casella, Resident Wordsmith (and Farmstand Associate)
Fall has officially arrived, and so have the first big apple deliveries from Beechwood Orchards and Three Springs Fruit Farm. Here's a handy guide to help you navigate the fourteen different apple varieties we now have at the 'stand, and a few recipes to rev up your fall cooking repertoire:
Empire: Sweet and crisp with bright white flesh and maroon coloring. Relative of the McIntosh apple, with similar floral/melon notes. Best for eating fresh or juicing.
Fuji: Very sweet and crisp with speckled pink coloring. Flesh is dull white and exceptionally juicy. Best for eating fresh or juicing.
Gala: Pleasantly sweet with pale orangeish-red to maroon coloring. Flesh ranges from creamy white to pale yellow, and its mild flavor is often likened to pears. Best for eating fresh or juicing.
Ginger Gold: Mild and sweet, with pale yellow-green coloring and a slightly sharper flavor than Golden Delicious. Best for eating fresh or juicing.
Golden Delicious: Very mild and sweet, with greenish-gold coloring. Flesh ranges from white to pale green and is richly sweet in flavor. Best for eating fresh or cooking.
Grimes Golden: A pale yellow American heirloom believed to be a parent variety of Gold Delicious. Very firm and pleasantly tart with an extra burst of astringency. Best for eating fresh, cooking/baking, and juicing. Great choice for homemade hard cider.
Honeycrisp: Predominantly sweet with streaked red and yellowish-green coloring. Flesh is white, very crisp and juicy, slightly acidic, and not too dense. Best for eating fresh, cooking, and juicing.
Ida Red: Sweet and tart with shiny red and green coloring. Flesh is bright white and holds up especially well in pies, cakes, and pastries. Best for cooking and baking.
Jonamac: Cross between Jonathan and McIntosh. Tart with sweet undertones and very crisp flesh. Coloring is deep red over a light green background. Best for eating fresh, cooking, baking, and juicing.
Jonathan: Well-balanced sweet-tart apple with red (sometimes yellow-streaked) coloring. Flesh is firm and juicy and makes for the perfect applesauce. Best for eating fresh, cooking, baking, and juicing.
McIntosh: Sweet with an acidic bite and shiny crimson-and-green skin. Flesh is bright white, very crisp, and holds up well in sauces and chutneys. Best for eating fresh, cooking, and baking.
Rambo: Sweet and just a little tart with a squatty, plump shape and bright green coloring. Flesh is white to pale green, crisp, and juicy. Best for eating fresh.
Red Delicious: Very sweet with thick, bright red skin. Flesh is dense and white to pale pink in color. Best for eating fresh.
September Wonder Fuji: An early, well-colored Fuji. Pink to reddish in color with sweet, crisp flesh. Best for eating fresh or juicing.
8 SWEET & SAVORY APPLE RECIPES TO TRY THIS FALL:
A Thanksgiving Sneak Peek
Posted September 10th, 2015
Peggy Paul Casella, Resident Wordsmith (and Farmstand Associate)
Thanksgiving may seem pretty far in the future (eleven weeks/seventy-seven days from now, to be exact), but here at Fair Food, we've been talking turkey since mid-July. There are vendors and farmers to confirm, marketing materials to design, logistics to consider, and volunteers to recruit. And then there's the issue of space: This year, in anticipation of our best holiday season yet, we're renting a refrigerated trailer to store all the produce you could possibly need for your big feast. Plus, we're also planning a series of tastings throughout October and November, which will highlight some of our favorite locally produced Thanksgiving goodies.
The opening day for Thanksgiving pre-orders is Thursday, October 1st, and shoppers will receive a $0.20/pound discount on select birds reserved on or before October 15th. (Thanksgiving pre-orders will be available for pick-up on Tuesday, November 24 or Wednesday, November 25 at the Farmstand.)
Here's the low-down on this year's turkeys:
Naturally Raised Broad-Breasted White from the Howe Turkey Farm (Downingtown, PA) 
Broad-Breasted White turkeys are the most common turkey in the United States, featuring ample breast meat, a leaner overall fat content, and availability in larger weights. The Howes process their own birds at a USDA-inspected facility on-site. These turkeys are sold fresh, never frozen.
Naturally Raised, Free Range Heirloom Bronze from Koch's Turkey Farm (Tamaqua, PA)
Bronze "Heirloom" Turkeys are a natural cross between heritage breed Bronze Standard turkeys and the more common Broad Breasted Whites. They are larger in size than pure heritage breed turkeys, with a richer, deeper flavor than Broad Breasted White turkeys. These turkeys are sold fresh-frozen.
Naturally Raised Heritage Breed Red Bourbon from Griggstown Farm (Princeton, NJ) 
This breed has not been crossbred for size, and retains the original characteristics of the old-breed: rich, fatty skin, darker meat, and a deeper flavor. These turkeys are sold fresh.
And in addition to turkeys, we'll also be offering various Thanksgiving extras for pre-order, including:
If you are interested in volunteering at the Farmstand during the week of Thanksgiving, contact Anne Steelman: [email protected].
Stay tuned for more details, and in the meantime, get a head start on your Thanksgiving planning with these handy tools: The Epicurious Thanksgiving Menu Planner; PBS's Thanksgiving Planning Checklist; Food Network's Thanksgiving Countdown Planner
At the Farmstand: Aug. 27 – Sept. 9
Posted August 27th, 2015
Peggy Paul Casella, Resident Wordsmith (and Farmstand Associate)
I don't know about you, but to me, back-to-school season always feels like a new beginning. Carefree summer weekends taper off into cooler days, and the start of a fresh school year sparks inspiration for goal setting and exciting adventures (whether you're a student or not). Though we all start out with the best of intentions, amid the bustle of school and work weeks, healthy eating can easily fall to the wayside.
Here are five healthy make-ahead lunches to power you through this busy time of year: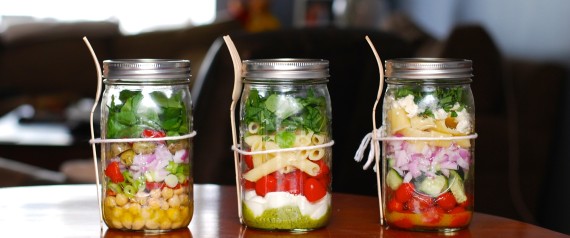 Jar Salads
Mason jars and cleaned-out tomato sauce or yogurt containers with twist-on lids are perfect for toting salads to work and school–and not only because they look pretty. Their tall, narrow shapes help you layer ingredients and prevent sogginess so you can assemble your lunches a few days ahead, then grab and go. In less than one hour you can prep all of the ingredients for a week's worth of portable salads (chopped vegetables, cooked grains and/or beans, and homemade dressing). Use quart-size jars for adult portions and pint-size jars for child portions, and pack them in this order:
1 to 4 tablespoons of dressing
Hard vegetables like carrots, cucumber, squash, green beans, peppers, and radishes, chopped
Cooked beans, hearty grains, or pasta
Cheese and proteins like hard-boiled eggs, tofu, cooked poultry/meat, or tuna
Fruits and softer vegetables like tomatoes and avocados
Nuts, seeds, and lighter grains like quinoa and bulgur
Salad greens like spring mix, arugula, and spinach
If you are including soft or especially perishable ingredients, such as hard-boiled eggs, cheese, cooked meat or poultry, fresh fruits, avocado, and tomato, add them to the jar on the day you plan to eat the salad. Click here and here and here and here and here for some tasty examples of jar salads.
Sandwiches
You'll never be bored at lunchtime if you stock up on Philly Muffins, Slow Rise bread, or Amaranth Bakery's gluten-free flatbread, along with a variety of sandwich fixings. For starters, try Soom Foods' tahini with roasted bell peppers, PB&Jams' cashew or almond butter with a handful of Kauffman's Dried Apple Schnitz, or sliced apple with Clover Creek's Mature Aged Cheddar cheese and Spruce Hill Preserves' hot pepper jelly.
Individual Pot Pies
This idea sounds way more complicated than it really is. With the help of frozen puff pastry or pre-made pie crust, along with a jumbo muffin tin, mini cake pan, or set of ramekins, you can whip up a week's worth of perfectly portioned chicken pot pies in less than two hours. (Check out this recipe, which uses pie crust, or this one, which uses puff pastry.) Just wrap them tightly in foil, store in the fridge or freezer, and heat them up in the microwave or toaster oven when you're ready for lunch. And to shake things up, use this method to make individual shepherd's pies, too.
Frittatas
You might not think of eggs as a portable option for lunch, but when they're made into a frittata, they become an ideal take-along nosh–sturdy, compact, and delicious warm or cold. Frittatas are great for showcasing all kinds of meats, cheeses, and whatever vegetables are in season. Plus, they're super inexpensive to make, and they require only half an hour of cooking time. This is a great recipe to begin with and this one will blow you away.
Polenta
Polenta makes a substantial base for all kinds of lunch options. Cook it in the slow cooker or on the stovetop over the weekend, and divvy it up into individual servings topped with roasted vegetables, stewed beans, tomato sauce, chili, or sautéed greens. For extra color and robust flavor, try Castle Valley's Bloody Butcher Polenta.
At the Farmstand: August 13 – 26
Posted August 13th, 2015
Peggy Paul Casella, Resident Wordsmith (and Farmstand Associate)
We all know that peaches, plums, berries, and melons are delicious in baked goods and other sweet applications, but why confine them to the dessert course? Exploring the savory side of summer fruits will shake up your cooking routine and unlock a whole new level of seasonal flavor.
If you're new to the whole fruit-for-dinner idea, start with something simple like grilled peaches and watermelon with feta and mint. Whip up a batch of blueberry or plum barbecue sauce to slather on ribs, tenderloin, or chicken wings. Or make a breezy meal of grilled clams with Peach, Tomato, and Basil Salad.
Of course, the Farmstand is fully stocked with all the summer fruits, vegetables, cheeses, and meats you need for your savory pursuits–even locally raised clams from Heritage Shellfish Cooperative, which pair surprisingly well with fruity flavors. Swing by for some inspiration, and savor the summer bounty while it lasts!
Here are some savory summer fruit recipes to get you started:
Blueberry
Cantaloupe
Peach
Plum
Watermelon
A Locally Sourced Fourth
Posted July 2nd, 2015
Peggy Paul Casella, Resident Wordsmith (and Farmstand Associate)
Do you have a favorite summer recipe? For me, it's Ina Garten's Fresh Corn Salad, tossed with basil, diced red onion, and a simple vinaigrette. I discovered it years ago when I was looking for something easy-yet-impressive to bring to a picnic, and it quickly became my go-to dish for every cookout and potluck of the season. Like other classic hot-weather salads (think caprese, tabbouleh, and watermelon-feta), its beauty lies in its simplicity–one focal ingredient enhanced by a few complementary flavors. And with yesterday's arrival of sweet white corn from Fifer Orchards (just in time for the 4th of July weekend!) I see a lot of it in my future.
Of course, corn wasn't the only exciting new delivery of the week. Yesterday we also received our first crates of yellow cling-stone peaches from Fifer Orchards; Oasis (Lancaster County) rolled up with an order of black raspberries; and Redhead Farms (Hammonton, NJ) brought fragrant flats of red raspberries and blackberries. Plus, we have plenty of blueberries from Blueberry Bill Farm (Hammonton, NJ) and a few more flats of sweet and tart cherries from 3 Springs (Aspers, PA) to round out whatever favorite recipe you'll be cooking up this weekend.
Whether you're planning to toss some burgers and hot dogs on the grill, make a vegetarian feast, or construct the perfect Independence Day pie, we've got you covered. And if you're still in the planning phase, here are a few patriotic recipes for inspiration:
Preserving the Season (June 4 – 17)
Posted June 4th, 2015
Peggy Paul Casella, Resident Wordsmith (and Farmstand Associate)
Here we are at the turn of a new growing season, as we place our last orders for strawberries, asparagus, and rhubarb and anticipate the first local harvests of cucumbers, peas, green beans, celery, broccoli, blueberries, and more. But before we turn all of our attention to the shiny new items of summer, let's relish the flavors of late spring, and preserve this sweet season for months to come.
Check out the following tips and recipes for preserving these last spring-crop deliveries–and enjoy them all year long:
ASPARAGUS: To freeze it, make sure you start with very fresh, rigid spears. Rinse them well, blanch them in boiling water for 3 to 4 minutes, then plunge the blanched spears into a large bowl of ice water for 3 to 4 minutes to stop the cooking and lock in the bright green color. Drain well. Pat the asparagus dry and transfer it to resealable bags or vacuum seal bags. Suck out all the air and freeze for up to 1 year.
Other ways to preserve asparagus:
RHUBARB: To freeze it, trim the stalks, then wash them and pat them dry. Cut the stalks into 1-inch pieces and place them in a single layer on a parchment-lined baking sheet. Freeze until solid, 2 to 3 hours, then remove from the freezer and transfer the rhubarb to resealable freezer bags or vacuum seal bags. Suck out all the air and freeze for up to 1 year.
Other ways to preserve rhubarb:
STRAWBERRIES: To freeze them, wash and hull the strawberries, and pat them dry. Place them in a single layer on a parchment-lined baking sheet. Freeze until solid, 2 to 3 hours, then remove from the freezer and transfer the strawberries to resealable freezer bags or vacuum seal bags. Suck out all the air and freeze for up to 1 year.
Other ways to preserve strawberries: