Peggy Paul Casella, Resident Wordsmith (and Farmstand Associate) I don't know about you, but to me, back-to-school season always feels like a new beginning. Carefree summer weekends taper off into cooler days, and the start of a fresh school year sparks inspiration for goal setting and exciting adventures (whether you're a student or not). Though we all start out with the best of intentions, amid the bustle of school and work weeks, healthy eating can easily fall to the wayside.
Here are five healthy make-ahead lunches to power you through this busy time of year: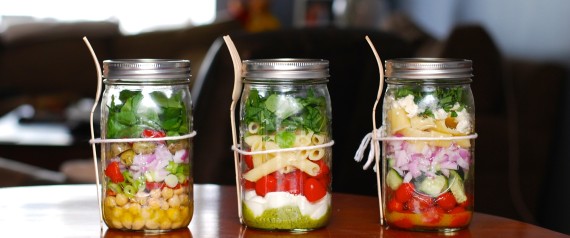 Jar Salads
Mason jars and cleaned-out tomato sauce or yogurt containers with twist-on lids are perfect for toting salads to work and school--and not only because they look pretty. Their tall, narrow shapes help you layer ingredients and prevent sogginess so you can assemble your lunches a few days ahead, then grab and go. In less than one hour you can prep all of the ingredients for a week's worth of portable salads (chopped vegetables, cooked grains and/or beans, and homemade dressing). Use quart-size jars for adult portions and pint-size jars for child portions, and pack them in this order:
1 to 4 tablespoons of dressing
Hard vegetables like carrots, cucumber, squash, green beans, peppers, and radishes, chopped
Cooked beans, hearty grains, or pasta
Cheese and proteins like hard-boiled eggs, tofu, cooked poultry/meat, or tuna
Fruits and softer vegetables like tomatoes and avocados
Nuts, seeds, and lighter grains like quinoa and bulgur
Salad greens like spring mix, arugula, and spinach
If you are including soft or especially perishable ingredients, such as hard-boiled eggs, cheese, cooked meat or poultry, fresh fruits, avocado, and tomato, add them to the jar on the day you plan to eat the salad. Click here and here and here and here and here for some tasty examples of jar salads.
Sandwiches
You'll never be bored at lunchtime if you stock up on Philly Muffins, Slow Rise bread, or Amaranth Bakery's gluten-free flatbread, along with a variety of sandwich fixings. For starters, try Soom Foods' tahini with roasted bell peppers, PB&Jams' cashew or almond butter with a handful of Kauffman's Dried Apple Schnitz, or sliced apple with Clover Creek's Mature Aged Cheddar cheese and Spruce Hill Preserves' hot pepper jelly.
Individual Pot Pies
This idea sounds way more complicated than it really is. With the help of frozen puff pastry or pre-made pie crust, along with a jumbo muffin tin, mini cake pan, or set of ramekins, you can whip up a week's worth of perfectly portioned chicken pot pies in less than two hours. (Check out this recipe, which uses pie crust, or this one, which uses puff pastry.) Just wrap them tightly in foil, store in the fridge or freezer, and heat them up in the microwave or toaster oven when you're ready for lunch. And to shake things up, use this method to make individual shepherd's pies, too.
Frittatas
You might not think of eggs as a portable option for lunch, but when they're made into a frittata, they become an ideal take-along nosh--sturdy, compact, and delicious warm or cold. Frittatas are great for showcasing all kinds of meats, cheeses, and whatever vegetables are in season. Plus, they're super inexpensive to make, and they require only half an hour of cooking time. This is a great recipe to begin with and this one will blow you away.
Polenta
Polenta makes a substantial base for all kinds of lunch options. Cook it in the slow cooker or on the stovetop over the weekend, and divvy it up into individual servings topped with roasted vegetables, stewed beans, tomato sauce, chili, or sautéed greens. For extra color and robust flavor, try Castle Valley's Bloody Butcher Polenta.