Alex Jones, Product Manager 
Between slowly-emerging spring crops and preparation for Philly Farm & Food Fest, things are bustling around the Farmstand! We've just gotten an update from our forager friend David Siller, who hopes to bring us wild PATIENCE DOCK and NETTLES this week. David also let us know that he's starting to see FIDDLEHEAD FERNS, but they're not quite ready yet - keep an eye on our Facebook page to know when we get our first delivery!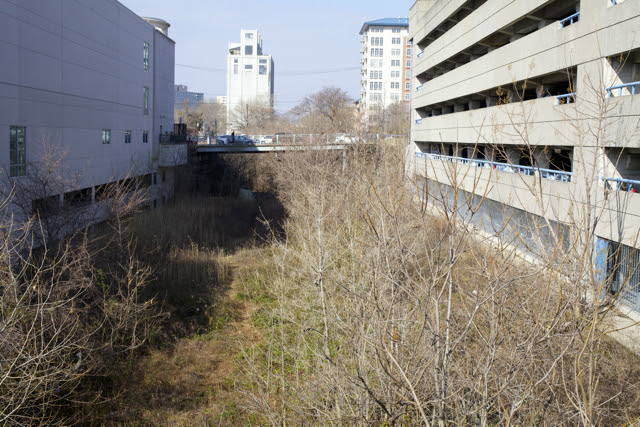 Speaking of Siller, we're super excited that the next session in our educational workshop series will be a foraging field trip in the City Branch portion of the Reading Viaduct! David will lead attendees on an edible plants tour of this wild, urban space on April 27.
The City Branch is a below-grade, open-air section of disused railway parallel to Callowhill Street and west of Broad Street - a perfect spot for wild plants to take root. We're so excited to co-present this event with Friends of the Rail Park (who are working on turning this space into another awesome Philly park) and SEPTA, who have graciously granted us access the City Branch. Fair Food will donate a percentage of the proceeds for this event to Friends of the Rail Park. Click for more info and to buy tickets!
Elsewhere at the Farmstand, we're making plans for holiday meats to make your Easter and Passover celebrations delicious! Contact alex@fairfoodphilly.org to reserve a ham from Sweet Stem Farm, Meadow Run Farm, or Country Time Farm. We also have some Meadow Run grass-fed brisket and Jamison Farm lamb cuts coming in, but quantities are limited - place your order before they're gone!
On Saturday, April 12, look for the Fair Food table in Center Court at Reading Terminal Market's SpringFest. From 10am to 4pm, we'll be selling all kinds of exotic eggs - EMU, GOOSE, DUCK, QUAIL, and both BROWN and MULTICOLORED PASTURED CHICKEN EGGS. Get prepared for Easter with these beautiful, rare, and unique eggs, whether you're preparing a frittata or decorating with the shells.
And Sunday, April 13 is the big day! Join us for the 3rd Annual Philly Farm & Food Fest, at the Convention Center from 11am to 4pm (tickets available online here). Keep an eye out for the Fair Food Farmstand's table - we'll be selling and sampling some of our favorite cheeses from Doe Run Dairy, Roundtop Farm, and Keswick Creamery, plus RipRap Baking's delicious sourdough flatbread crackers. And while I'm excited for all of the awesome Fest vendors, be sure to visit Fair Food members. Look for the Fair Food logo at their tables and show them some extra love!