Emily Kohlhas, Fair Fooder
The idea started small and simple: a beer festival that wasn't just about the beer.
After years of enduring pretzel necklaces and chicken fingers at even the best of the nation's beer festivals, Victory Brewing's Bill Covaleski had had enough. For Bill, and many others in the local food scene, beer wasn't just the most efficient way to wash down a hot dog - although it still holds that title as well. It was also the ideal accompaniment to a sophisticated meal. Like a big-bodied red wine, a full and robust Belgian dubbel has a magical way of accentuating the rich, gamey flavor of a roasted rack of lamb. Akin to champagne, an effervescent cider can bring to life the buttery paste of a runny triple crème, making it sparkle like a disco ball at midnight. A secret kept too long.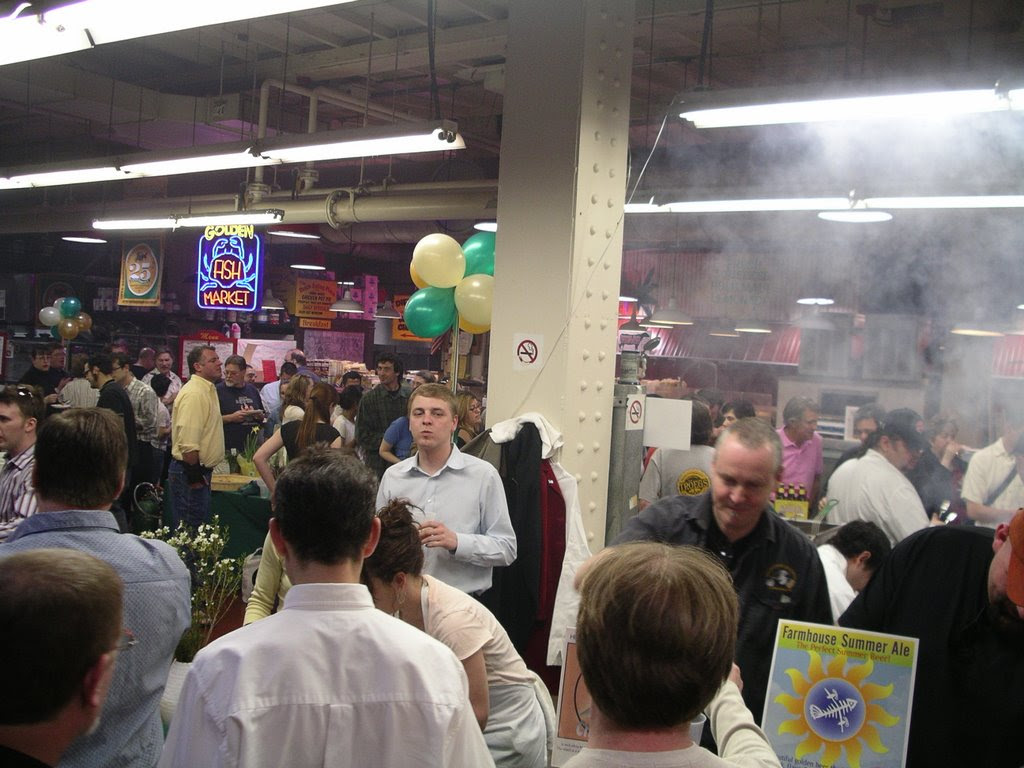 Frustrated and determined, Bill approached Fair Food's own Ann Karlen with the pitch: a beer festival pairing local craft beer with fine local food, all in support of Fair Food's work to build a strong, sustainable, and equitable local food system. Not a hard sell. That year, Fair Food gathered a small group of innovative local brewers and restaurants, along with a small crowd of adventurous locavores and beer enthusiasts, at the Reading Terminal to celebrate the power of beer to bring people together around food. And with that, The Brewer's Plate was born.
The Brewer's Plate almost singlehandedly unleashed the power of the beer and food pairing movement in Philadelphia. And as with many good things in life, it has gotten even better with age, becoming the definitive food and beverage festival in the Mid-Atlantic region. Growing from a handful of chefs and brewers, the evening has come to feature well over a hundred outstanding local chefs, farmers, food artisans, brewers, distillers, and winemakers. Now, with ten years, multiple venues, and slew of awards now under its belt, The Brewer's Plate is due for a real party. It's time to celebrate the celebration.
On March 9, locavores and beer enthusiasts will unite to take over the Kimmel Center for the greatest-yet Brewer's Plate 10th Anniversary Celebration. Fair Food is jam-packing all three floors with the best of the best in Philadelphia food and beer (not to mention wine and spirits), with brewers and chefs pairing up to create the perfect duo of dish and drink. Upstairs, celebrity guest Jose Garces is hijacking the VIP area for a Sausage Showdown pitting Garces against Garces to find out which of his restaurants makes the best wurst.
The Brewer's Plate has become a sell-out event, and we want you to be there to celebrate our 10th year pairing beer and food in support of Fair Food - so please, get your tickets early. And what better time than Valentine's Day to show The Brewer's Plate some love?! Even better, show the love and give it too: a pair of tickets makes the perfect last minute Valentine's Day gift.
See you (and your sweetie) there?
What: The Brewer's Plate 10th Anniversary
Where: The Kimmel Center When: Sunday, March 9 | 5:30PM